You grew up in an artistic environment – your mother is a beauty therapist, while your brother is a self-taught artist. Do you think it was somehow "foreshadowed" that you would also walk this creative path or were there any other alternatives that you were considering?
I definitely considered alternative career paths; I actually wanted to pursue fashion design when I was young, as this was/is an important form of self-expression for me. While I was drawn to a career in fashion, I developed a keen interest in history when I was in high school; this fascination had me wanting to study social work or journalism but, unfortunately, this was not feasible for me at that point in time. In a way, I am grateful because I started to engage more with art through my brother and this ultimately led to my decision to work on a part time basis, while joining an NGO for art learners - The Little Artist School Project.
You attended Artist Proof Studio, that specialises in printmaking. Could you please tell us, why did you choose printmaking instead of going for classical academic painting?
Following on from my previous answer, it was the mentors and teachers at The Little Artist School Project that recommended that I go study printmaking at Artist Proof Studio. At the time, I had no idea what printmaking entailed and the only art school that I was aware of was the National School of Art (NSA) in South Africa, so this marked the beginning of my introduction into the local formal art establishment. I first completed a part-time course at Artist Proof Studio, attending one lesson every Saturday for the duration of a year. This course was both practical and theoretical in nature and led to my decision to pursue their three-year course on a full time basis.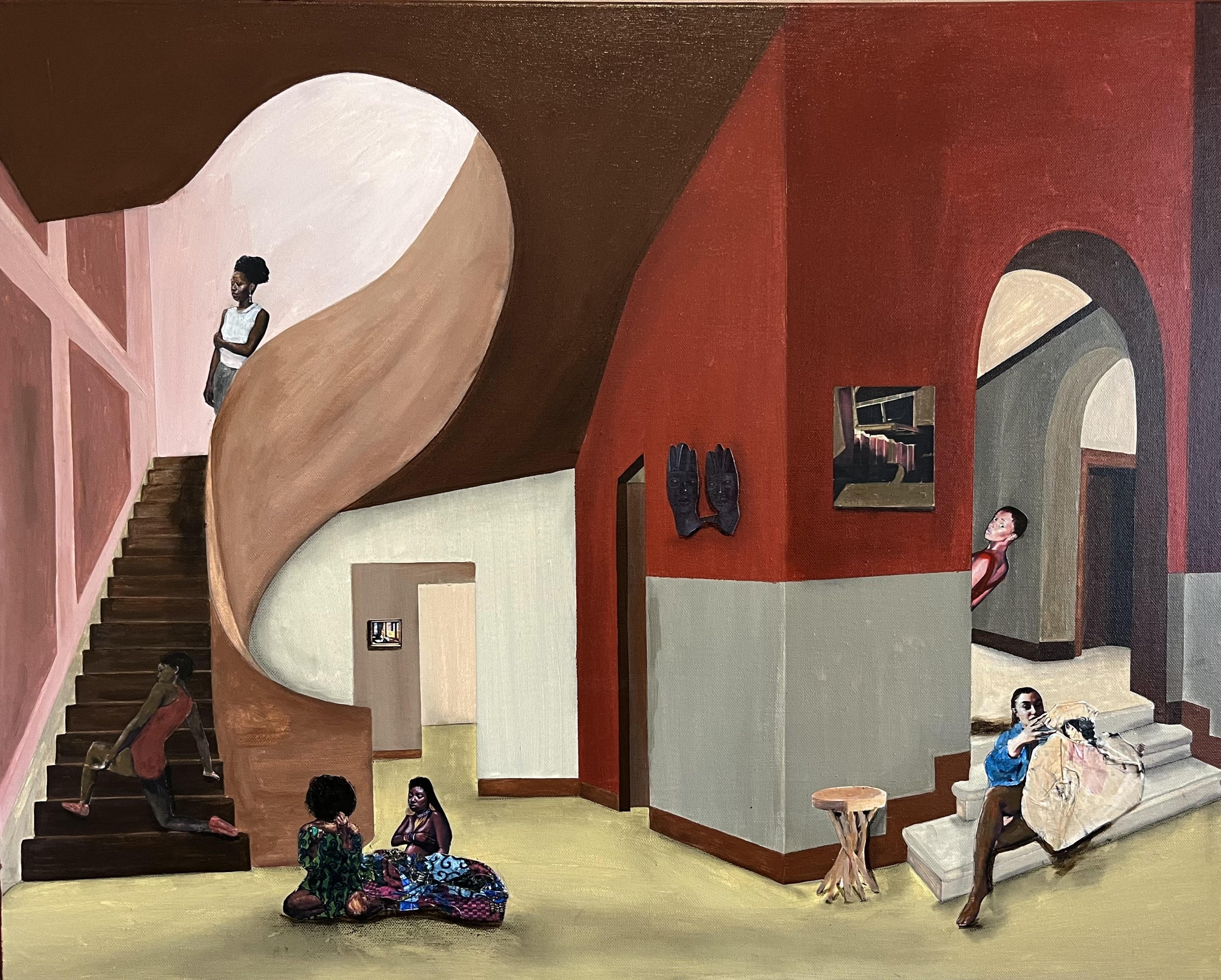 © Cinthia Sifa Mulanga, Before the Oasis III, 2022. Image: Cinthia Sifa Mulanga
You use different mediums such as acrylic, oil paint, charcoal, ink, collages from magazines and even your personal photographs. Do you have a preference for a medium above the rest or do you rather strive for uniting them in one work?
With a background in printmaking, I think that I was more inclined to employ different techniques when developing my creative process. As such, each medium featured in my artworks is of equal importance to me. Layering the different media, challenges me to explore the possibilities of each medium - I definitely strive to unite them in order to tell a cohesive visual story. I also like that there is an element of play in this stage of my creative process and that the combination of various media enhances the complexity of each work.
The female silhouettes depicted in your works often represent an "ideal perfect woman" – a myth coined by social media which provided us with numerous beauty filters, etc. Are you criticizing these socially imposed beauty standards or what is your "ideal woman" trying to tell the viewer?
My work is reflective of the ever-changing beauty standards imposed on women, particularly Black women, and women of Colour. It evaluates historical beauty standards and their impact on Black women and their psyches. It also considers how platforms like Instagram have given voices to those whose opinions were traditionally neglected or ignored, allowing for the aforementioned beauty standards to be challenged. A key focus in my work is to emphasise that not all Black women or women of Colour are supposed to be identical, that a spectrum of beauty exists, and that we are allowed to occupy every millimetre on this spectrum.
During your childhood you played with dolls. Now these Barbie dolls accompany protagonists of your works. Should they be interpreted as notorious symbol of unrealistic beauty standards or is there something else behind that?
When I first began to develop my conceptual foundation, I was interested in the Barbie doll, its proximity to fashion and its aspirational lifestyle, as depicted in their marketing. However, through my research, I realised that toys are not simply toys and that they impact children and their values from a young age. Watching the doll test, I understood that the Barbie doll that I was creating was reflective of social constructs that I had internalised but was not yet aware of. As I started to question these constructs further, I realised that Barbies are not just a notorious symbol of beauty, but that their existence brings questions about self-image, representation, age and privilege (among many other things) to the forefront.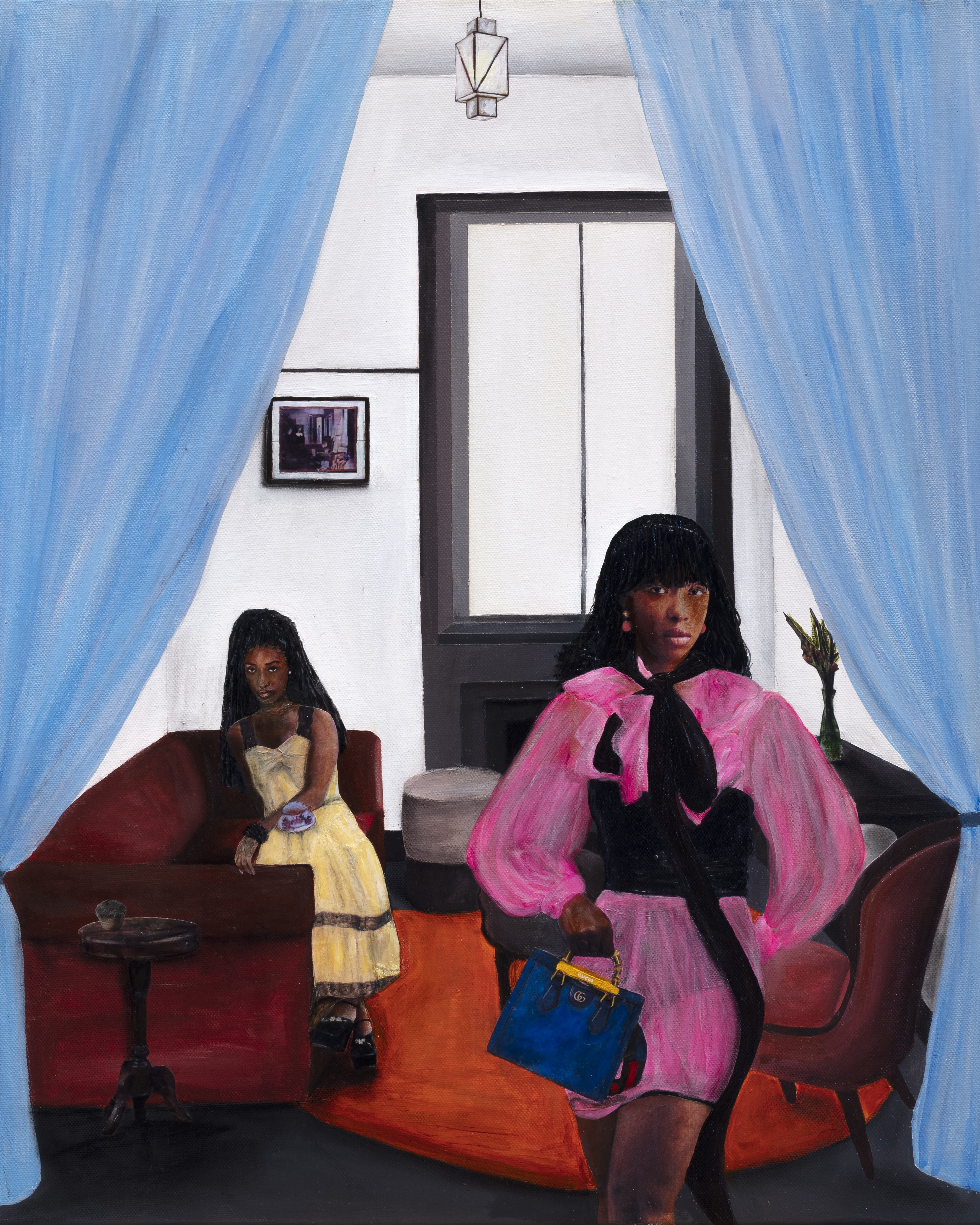 © Cinthia Sifa Mulanga, Moment, 2022. Image: Cinthia Sifa Mulanga for GUCCI
Why do domestic spaces have so much significance for you? Have you thought about putting the female protagonists of your works into other "environment"?
I began depicting my subjects in domestic settings during the first wave of the COVID pandemic in 2020, wherein the whole world was in lockdown. It became a reflective process for me, mirroring the frustrations and emotions that we were all experiencing, confining big feelings to small spaces. As domestic spaces became more predominant in my work, I grew increasingly interested in interior design and architecture; this attraction sparked my exploration into the psychology of space. I tend to approach domestic spaces in relation to safety, comfort, growth and the familiar.
In addition, since my family and I moved to South Africa from the DRC, we have moved frequently and have been exposed to a variety of homes, structures, ways of living, languages, cultures, traditions and mannerisms. Painting a subject in a domestic space allows the viewer to gain more insight into their life and allows more room for sympathy and/or empathy from the audience. I have definitely thought of putting the women in different environments and have started to explore this; as you will see, I have recently started depicting spaces' exterior views through the windows of the interior spaces, slowly but surely expanding my subjects' worlds.
In one of your interviews, I have read that within your works you often depict your own character, and lots of those happening in the work is a reflection of who you are as a person. Could you comment on this, please?
Initially, I considered the women in my paintings to be Barbie dolls of my own creation, representing women that I knew or those that inspired me. At some point, I realised that I was hiding behind these 'dolls'; I was not allowing myself to be entirely vulnerable on the canvas which, in turn, limited my creativity. As I have built my confidence as an individual and as an artist, I now see these subjects as extensions of myself and consider them to be aspirational in nature.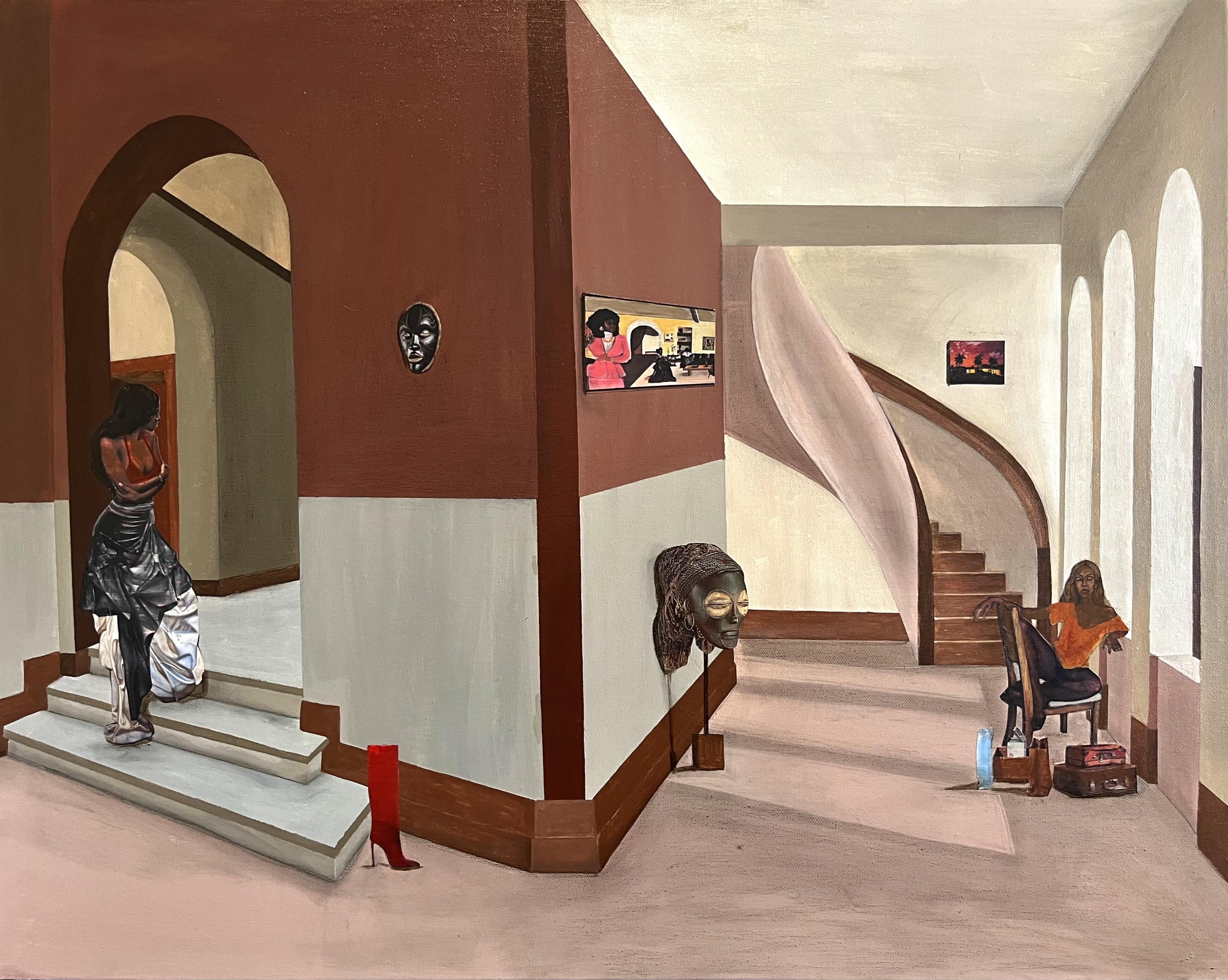 © Cinthia Sifa Mulanga, Before the Oasis II, 2022. Image: Cinthia Sifa Mulanga
I cannot but mention your collaboration with Gucci earlier this year when you created an artwork for their campaign. Could you tell us briefly about this experience, what did it bring for your practice. Would you like to cooperate with fashion brands in the future?
Working with Gucci was a dream come true. As I had mentioned earlier, I have been passionate about fashion from a young age, so this collaboration was a full circle moment for me. It was incredible to work with their team and it taught me a lot about what collaboration can bring to an artist's oeuvre. I have learnt that an openness to the feedback and ideas of others can enhance an artist's practice and work by bringing fresh perspectives and approaches to the table. After such a positive experience with Gucci, I would definitely like to collaborate with more fashion brands in the future.
You have recently been named among the 30 artists shortlisted for The Norval Sovereign African Art Prize. First, congrats on this great result! And secondly, could you tell us a little bit about the works that you have applied with?
Thank you, Valentina. After one is nominated as a finalist for the NSAAP, the artists are asked to submit between one and three pieces for the panel's consideration. As it was such an honour to be nominated, I chose to submit just one piece that is extremely personal to me, titled All my Emos. This piece channelled my innermost thoughts at the time of its creation, exploring a multitude of ideas simultaneously. I was looking at how uncertainty about the future and social media had impacted upon my self-esteem and creativity. As the showcasing of one of your pieces is the most vulnerable that an artist can be, I found self-doubt creeping in and external opinions started to weigh on me both personally and professionally. As such, All my Emos was created as a form of rebellion against the internal and external pressures that I was experiencing at the time.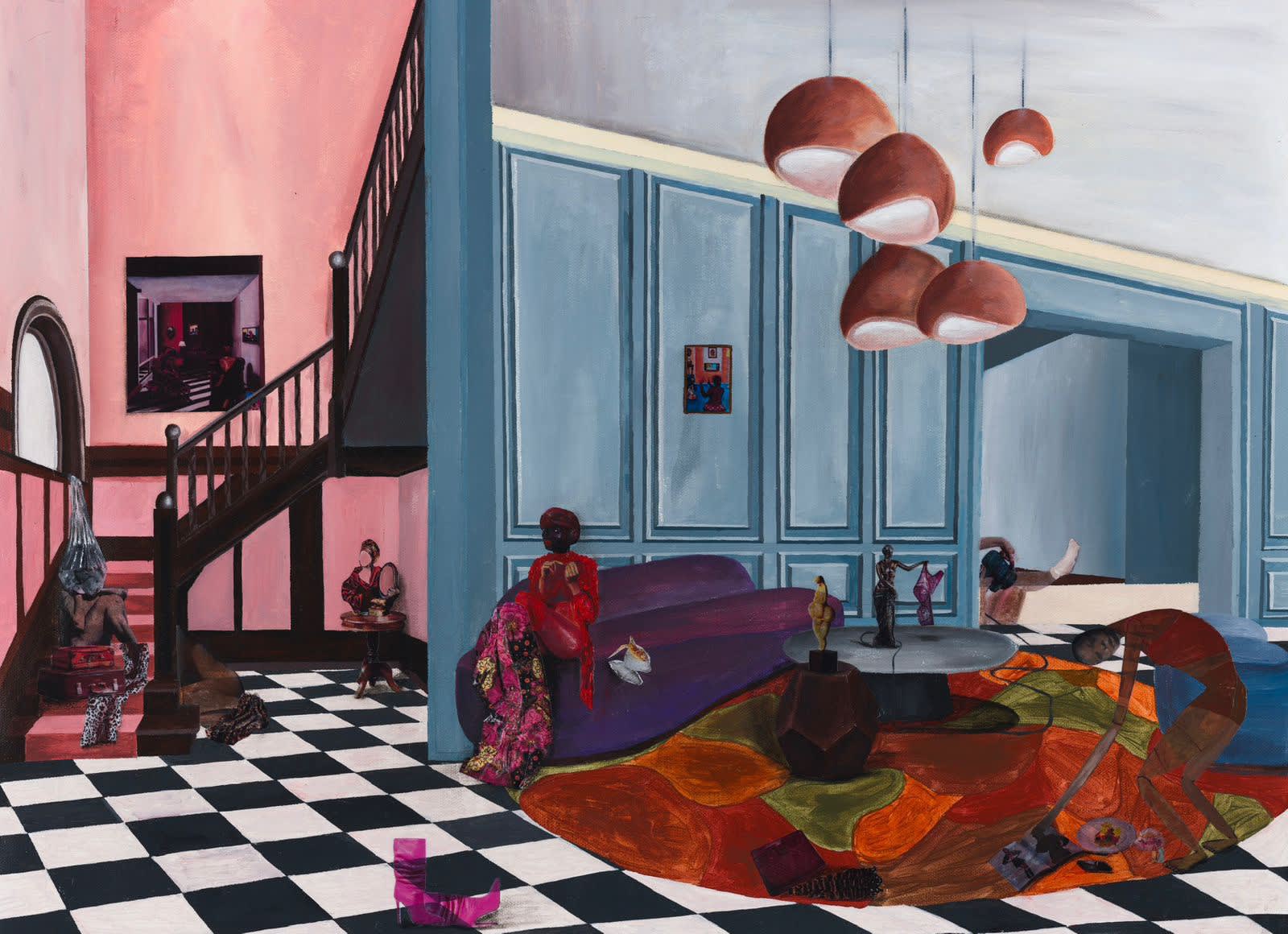 © Cinthia Sifa Mulanga, All my Emos, 2022. Image: Cinthia Sifa Mulanga
Where do you draw inspiration from? What hobbies, activities or personalities are your key inspiration sources?
While I draw inspiration from many sources, including literature and magazines, social media is probably my greatest source of inspiration. I am fascinated by the counterintuitive nature of the platform and like to interrogate how and why people shape certain narratives for and around themselves. I am drawn to individuals who are unafraid to be themselves in such a public setting. To individuals that have forged their own identity and made space for themselves on the platform, in a sense rendering the digital sphere their own domestic settings - filled with vulnerability, vibrancy and growth.
Interview conducted by Valentina Plotnikova