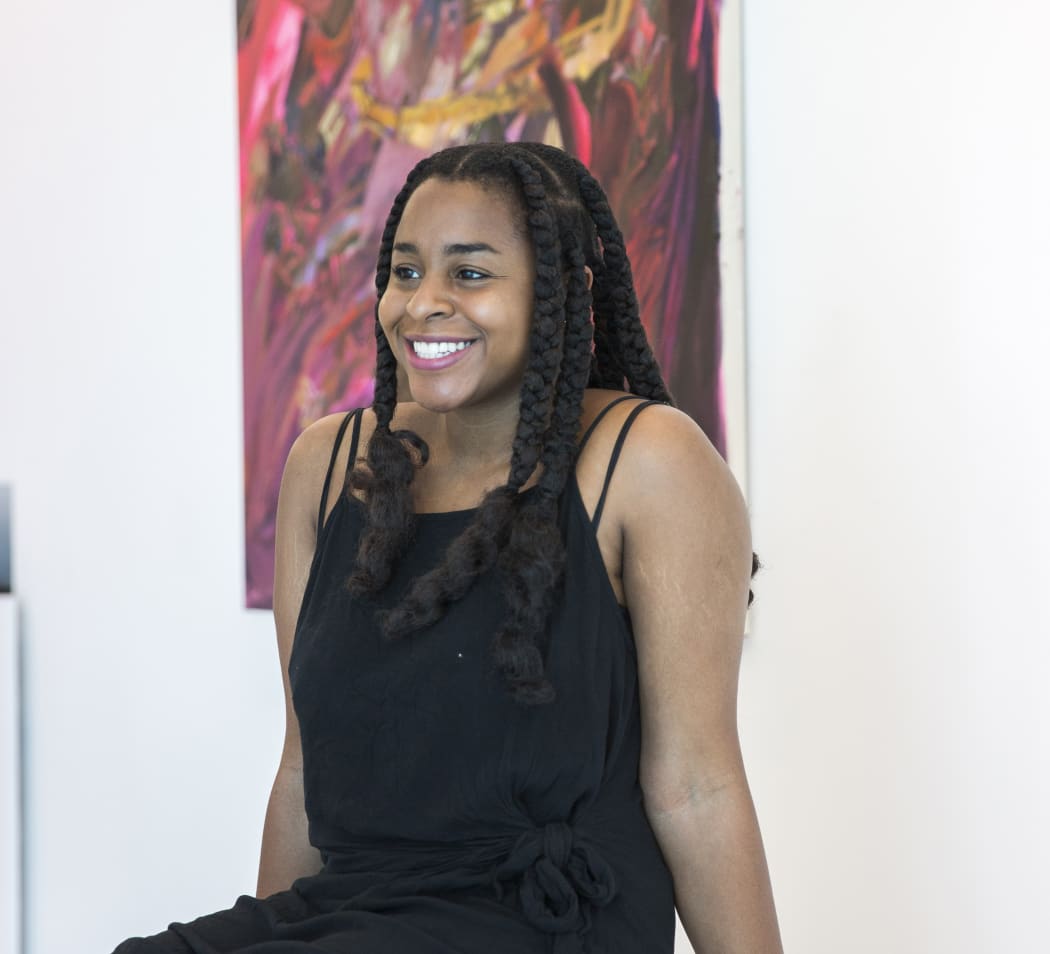 Your work has progressively moved towards more abstraction. How do you see this developing in your practice, both as an action and in depiction?
Over the last couple years, I've realized how weighed down I felt while trying to render images that felt a bit surreal but were also rooted in the logic of our world's physics/ spatial perspective. I still like doing figure drawings from life sometimes and I love accurately rendering anatomy. Those skills are important. There's so much to learn from doing figure drawings, the feeling of depicting just the right proportions in a subject is satisfying. However, when I'm doing the action of painting, I find myself completely transfixed in trying to mold a space that looks engaging, rather than a space that looks like it could actually function. As an action this presents itself as learning to trust myself more; knowing that I can make a compelling painting without relying so heavily on my ability to paint realistically.
There is warmth you project in your work, both in the spaces and the figures. There is also a tone of darkness in your color pallet. How do you go about making these decisions about color and tone within your work?
Dark and warm are two sensations that define security for me. Like a cocoon, cave, or your bedroom at dusk. I think I want my paintings to feel like a sensory experience that involves more than just sight. Once you've studied and practiced color theory, that knowledge becomes a bit more intuitive. For myself, when starting out on a piece I decide two or three colors that I want to dominate the painting's palette. Usually, I unintentionally veer off this plan. I'm constantly worried about every work I make devolving into the entire color spectrum. I love color so much, but I don't want everything I make to be a repetitive rainbow. So halfway through I end up reminding myself to go back in and remove a few marks of bright pink, for example, that look pretty but take away from the piece overall.
© Cradle, 2021, 40"x 50", Acrylic and oil on canvas, Image by New Image Art
The spaces you create, you refer to as imaginary, and your diminishing reliance on photographs. What draws you to these imagined spaces?
I'm not completely sure myself. I feel more like I happened upon these places, I stumbled into them. I think that more than anything else I'm trying to capture some sort of specific feeling in my work. I don't know what feeling that is. Something like halcyon.
How do you develop what they look like and what occurs within them?
It usually starts with an idea for a focal point I have in mind. If I see a really pretty pastry in the bakery display I file a note in my head saying "pink frosted donut + rainbow sprinkles". Then I imagine what I would do if I had a giant donut, perhaps use it as a hula hoop. Then I create some sort of visual narrative around that. The rest is just like putting together a puzzle or doing "Mad Libs". I just need to figure out what surrounding imagery best compliments that story.
I want my work to feel a bit psychedelic. So that's what is always in the back of my head when generating ideas.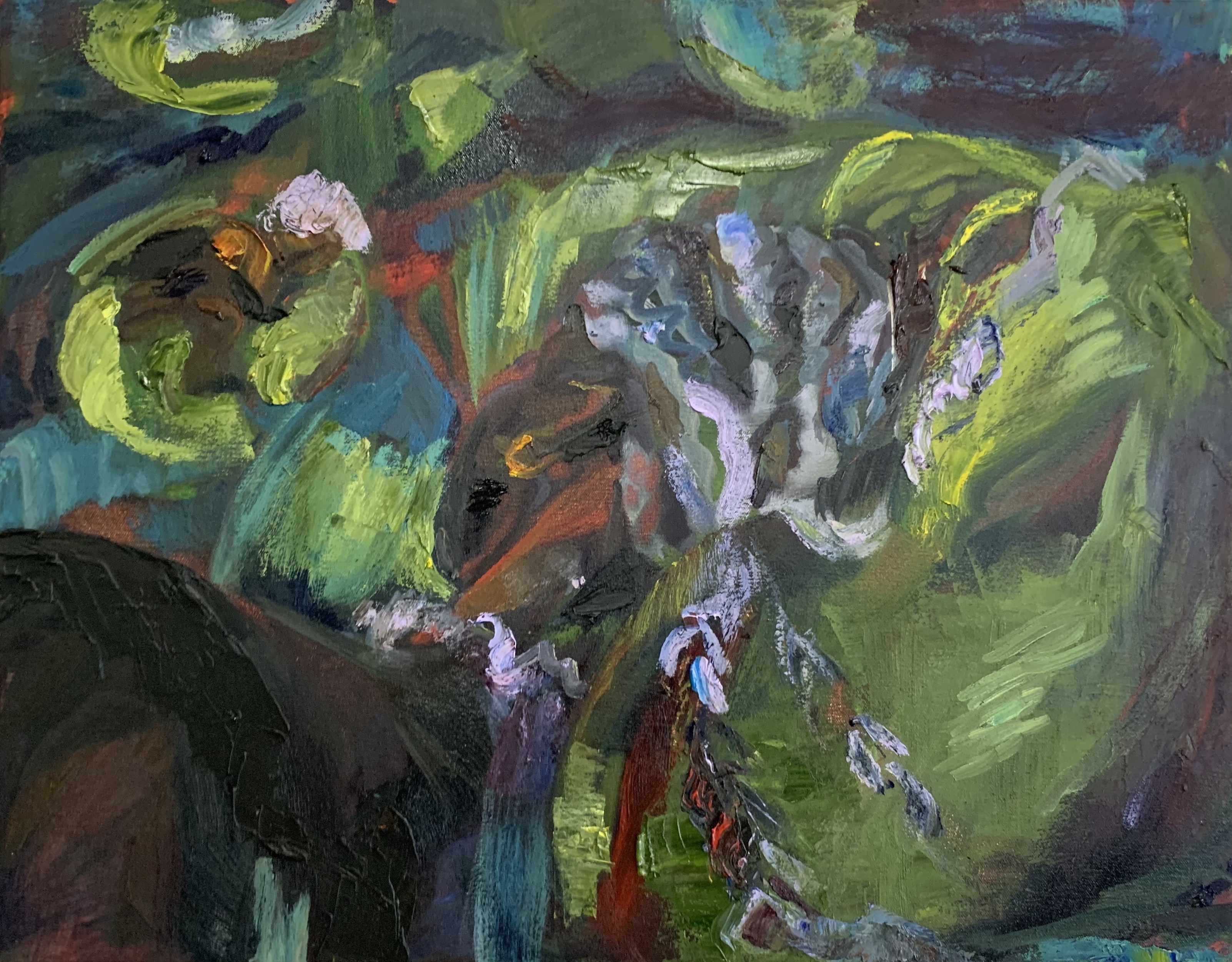 © Lily Pillows, 2022, 22"x 28", Acrylic and oil on canvas, Image by the Artist
I read in an interview that you were interested in exploring large-scale drawing again and you see it as integral to painting as a practice. How do you see these forms communicate with each other within your work or as a practice within art production as a whole?
Drawing in general is integral to my painting practice because I believe that drawing and painting are almost the same action, physically speaking. The delineation comes from what material you're using. So for me, if I can't draw, I can't paint. Both mediums have their own respective histories. When I think of the best painters of all time, they are also all great at drawing. Drawing has a directness that often is harder to capture in painting, at least for me. I've started using oil sticks in my paintings more for this reason. Using a tool that produces its own pigment allows for quick movement.
When I think about the arbitrary distinction between drawing and painting one of the first words that comes to mind is "line". I always want line to be present in my paintings. Perhaps because line is my favorite way to distinguish between objects in my work. I also find that I often have the most fun while doing hatching and other gestures that show the speed of my hand. The process of painting for me is creating a drawing and filling it in with paint, then going back in and bringing out some more lines via scraping and wiping in places, and then covering up some of those marks with more paint; it feels like a dance. Weaving in and out between drawing and painting.
I want to do some large format drawings so I can see if there's any information I'm unintentionally omitting in paint that is present when I render with more rigid drawing tools like colored pencil/pastel/graphite. Or vice versa.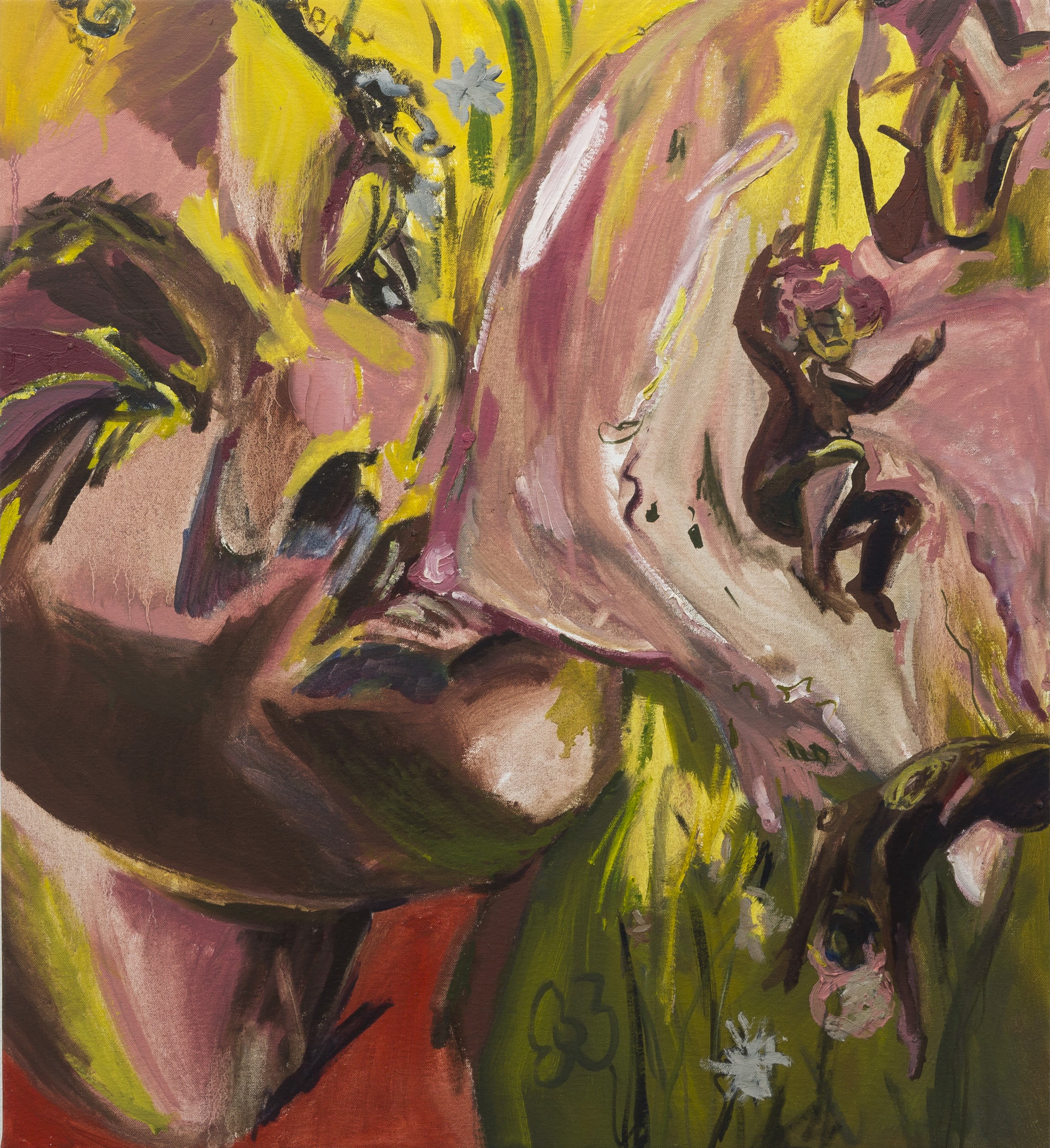 © Why would I ever come down?, 2022, 47"x 51", Acrylic and oil on canvas, Image by The Breeder
In the last couple of years, you've had the opportunity to show your work in different cities and countries. Do you see these distinct settings influence your work? If so, how?
I don't think so? At least not consciously. Everywhere we go and see leaves little fragments of memories, details, images etc. in my head. I'm 100% sure they end up in the work one way or another.
Where do you draw "inspiration" from? Any hobbies or activities that play a part in your practice?
I will answer this question in the format of a list:
- my relationships with my sister, friends, and other women in my family
- going to art museums (predictable)
- Fauvism
- Impression
- Astrology/ astronomy
- Fairytales/ myths
- pop music/ videos
- 1970s fashion and aesthetic
- sleeping > dreams
- collecting seashells
- I need to get some hobbies
- the season changing from summer to fall